---
ABOUT SAFE SAX
---
Safe Sax is a seven-piece jazz and swing band made up of four saxes and a rhythm section of guitar, bass, and drums. Drawing from West Coast, bebop, mainstream, and swing styles, their repertoire focuses on classic jazz compositions by the famous (Ellington, Monk, Mingus) and the less well-known but hard-swinging Shorty Rogers, Jimmy Giuffre, Tadd Dameron, Gigi Gryce, Elmo Hope, Mercer Ellington, Duke Jordan, Fats Navarro, Frank Foster, and many others. The band also plays swing classics and standards. (See the band's Songlist.) All of the compositions in the band's book have been freshly arranged by bandleader/saxophonist Glenn Broadhead.
The "Four Brothers" voicing at The Bog for IIT's "Salute to the Graduates"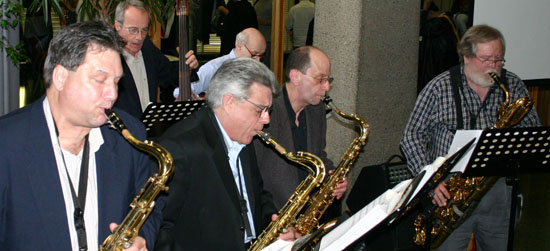 Steve Koerner, Paul Damkoehler, Jim Sunseri, Bill Reda (behind Jim), Herman Reyes, Glenn Broadhead

Started in Chicago in 2006, the band has played at a wide range of venues:

All of the group's charts are arranged by bandleader Glenn Broadhead. "Because all of the sax players double on several types of sax," he says, "we're able to get a variety of sonorities or tonal textures into our program by using different voicings:
The big band sax section voicing: alto, tenor, tenor, bari
The Woody Herman "Four Brothers" voicing: tenor, tenor, tenor, bari
The Charlie Barnet voicing: soprano, alto, tenor, bari
The Glenn Miller voicing: clarinet, soprano, alto, tenor
And Steve, Mario, and Herman all double on flute, which I like to feature on the Latin numbers."

Yet more variety is provided by a band-within-the-band, the Halfway to Dawn Trio, which includes Bill Reda (guitar), Michael Daly (bass), and Broadhead on clarinet, tenor sax, and vocals.

Recently (2007), Broadhead has begun to expand his Safe Sax arrangements into full big band charts, which have been played by Ted Hogarth's Mulligan Mosaics, Bill O'Connell's Chicago Skyliners, and Bill Gilardon's Chicago Grandstand—often at Fitzgerald's in Oak Park.

Broadhead started an earlier version of the band in 1991 when living in Fort Bragg on the north coast of California, where he studied jazz improvisation and harmony with pianist/composer/arranger Kent Glenn. He had previously organized a quartet called Redwood Jazz*, and to this group added three more saxes. The original Safe Sax consisted of Diane Zissa (alto sax), Phil Lawrence (alto and tenor sax), Karl Schoen (baritone sax), Glenn Broadhead (tenor sax), John Cameron (piano) or Danny Barca (guitar), David Isakson or Pete Gailey (bass), and Dean Pederson (drums).
The North Coast version of Safe Sax played frequently at many venues in Fort Bragg, Mendocino, and other towns up and down the North Coast: The North Coast Brewing Company's Tap Room, the Caspar Inn, Jim Larsen's The Restuarant, the Headlands Coffeehouse, the Hill House Inn, the Mendocino Hotel, the Fort Bragg Center for the Arts, and the Mendocino Coast Writers Conference. They are shown at right performing at the Headlands Coffeehouse with Karl Schoen (bari), Danny Barca (guitar), Phil Lawrence (alto/tenor, Laura Maione (bass), and Glenn Broadhead (tenor).

Safe Sax—North Coast is still performing under the direction of Karl Schoen.
* Redwood Jazz usually consisted of Broadhead on clarinet, tenor sax, and vocals, Danny Barca on guitar and vocals, Marvin DeSpain on drums and vocals, Laura Maione on bass, and Kelly Peterson on vocals. Frequent subs included Dean Peterson (drums), and David Isakson, Pete Johnson, and Daney Dawson (bass).